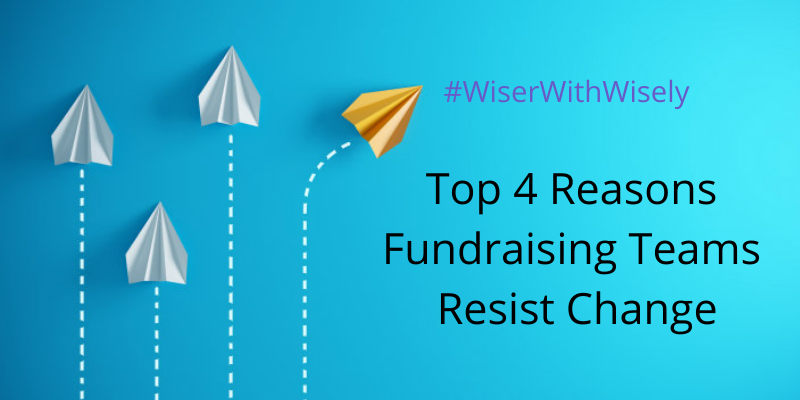 In the coming series of blogs Wisely aims to educate fundraising teams about how adopting AI-powered nonprofit fundraising software solutions can make their fundraising journeys more efficient. It's important to take that first step – to figure out what's the best solution for you – and Wisely is going to be right there with you.
Change is hard, and if the pandemic has taught us anything – it is, that change is the only constant. Did you ever think that the entire world, as we know it, would come to a standstill and everyone would learn to accept and adapt to this change? But a year plus on, we've all adapted to this new normal. And this is what got us thinking about the parallel to traditional fundraising. Wisely was made for fundraisers, by fundraisers. So we understand that the default button is always to lean on "this is the way we know how to do it" or "this is how we've always raised funds". It is hard to adopt new technology, it's new, it's unchartered, and you don't know your way around it. BUT stay with us for the duration of this blog series and we promise you – you'll be ready to adapt.
From learning to adapting, it's a long journey we need to make together, so let's get started. What's the first thing that comes to mind when we talk about adopting a new process/technology/habit? Resistance to change is always our first reaction. In this post, we focus on exactly that – why fundraising teams resist change and practical strategies you can use to manage your team effectively through change.
Why fundraising teams resist change
We've outlined the top 4 reasons why fundraising teams resist change. It is important to navigate your team efficiently through change ensuring buy-in from all stakeholders. When you understand why fundraising teams resist change – especially resistance to using nonprofit fundraising software – you'll have an easier time addressing those concerns and managing through change.
1. Lack of Time
In an industry where resources are often limited, fundraising teams are focused on meeting their goals and getting through their to-do lists. There's not a lot of time left to research and assess new nonprofit fundraising software or learn how to use a new system.
Time, or rather a lack thereof, is one of the biggest reasons fundraising teams resist change. In order to effectively manage a team through change, you will almost definitely need to address this challenge.
Managing a team through change: addressing the challenge of time
Provide a timeline with milestones to your fundraising team for adopting the new nonprofit fundraising software and enough time for them to adjust.
Make the process easy and efficient for your fundraising team by giving them everything they need to succeed.
Highlight time-saving features of the nonprofit fundraising software that will save your fundraising team time in the future.
2. Gaining Buy-in from team members
When you're managing a team through change, gaining buy-in from key staff members will make a huge difference in the process. You'll be amazed at how quickly you can get a fundraising team on board with adopting a nonprofit fundraising software just by getting buy-in from a few key fundraising team members.
This is also one of the most challenging obstacles to overcome as it is more interpersonal rather than process-driven. However, it's sure to make the adoption of nonprofit fundraising software run more smoothly.
How to get buy-in
Identify key staff members on your fundraising team whose buy-in would help push adoption of nonprofit fundraising software forward.
Involve the key members is the best way to get their buy-in for adopting a nonprofit fundraising software.
Create a task force with your key stakeholders from the fundraising team and other teams if applicable.
3. Organizational Culture
When a nonprofit organization or a fundraising team is resistant to adopting new technology like nonprofit fundraising software, it's often due to the culture of the organization. It's hard to change a culture, but when you're managing a team through change there are ways you can overcome obstacles related to organizational culture.
How to address organizational culture challenges
Focus on positive outcomes of using nonprofit fundraising software rather than pointing out things that are wrong or not working with the current process.
Be patient, change isn't going to happen overnight, you may need to have a several-step process in place to adopt nonprofit fundraising software.
Go slow, don't switch to a brand new system right away, take time to explain each step, and allow for a transition period to the nonprofit fundraising software.
4. Limited Experience Adopting New Software
When it comes to adopting nonprofit fundraising software, the experience can cause fundraising teams to resist for two reasons. One: experienced fundraisers may think that their way is the best way because they have been doing it for so long. Two: less experienced fundraisers may not understand the value of nonprofit fundraising software or know where to begin.
How to address challenges due to experience
Training sessions can help members of the fundraising team feel more comfortable with nonprofit fundraising software.
Assign software ambassadors, these are people in each team who commit to being the most knowledgeable about the new technology. They can then act as a resource to support colleagues who are less comfortable with the nonprofit fundraising software while they complete the transition.
Provide guidance by the way of product demos, experienced fundraisers likely know that a new solution is out there to make their fundraising more effective, but they're not sure where to start.
Change always seems impossible at first but when you rally your troops around, in this case, your fundraising team, and take the time to learn and progress together, great things happen! Fundraising is hard and even more so during the pandemic so why not lean on tools and tricks that make it easier for you and your fundraising team?
Come back next week for our blog on how Excel compares to nonprofit fundraising software solutions. Learn how to optimize your donor database and get real-time insight into your donor portfolio so you can connect with the right donor at the right time, bring in more gifts, and enjoy a better donor experience.
Interested to know how to accelerate your fundraising using Wisely's AI-powered nonprofit fundraising software? Sign up for your FREE trial today!