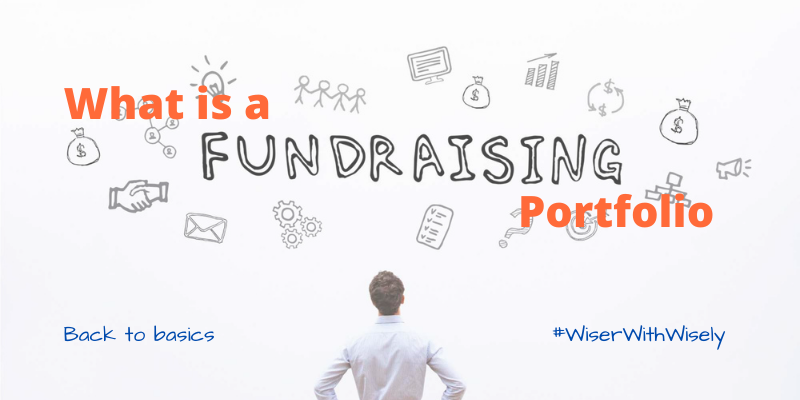 A fundraising portfolio for nonprofits is the most important tool that your revenue development team has when it comes to managing their goals for the year and keeping track of donor moves management. But what is a fundraising portfolio?
Simply put, a fundraising portfolio for nonprofits is where all of your donor and prospect pipeline data lives. It tracks your fundraising team's progress towards their revenue goals and keeps track of the gap between the goal and realized revenue. It can also show you the progress of individual fundraisers. But your fundraising portfolio can do so much more than just show you revenue totals! 
Not only does your fundraising portfolio track your fundraising team's progress towards their revenue goal. It also tracks where each of your prospective donors are in the donor lifecycle and the moves management steps you need to take to move them towards making their next gift. 
Why does your team need a fundraising portfolio?
Your fundraising team needs a fundraising portfolio because it helps your nonprofit raise more money. A properly managed fundraising portfolio helps your team build meaningful donor relationships that lead to more donations. 
Without a centralized donor portfolio, your fundraising team will have a hard time tracking goal progress, and an even harder time determining how to fill the gap between their targets and realized revenue. 
Your fundraising portfolio also tracks donor lifecycle and your fundraising team's moves management strategy. It's where your fundraisers can go to see what actions they need to take next to secure their next donation. Without a fundraising portfolio, it will be very time-consuming for your fundraising team to keep track of the moves management actions they need to take with their prospects. This means things will fall through the cracks and revenue will be left on the table.  
Fundraising Portfolio and Moves Management 
Moves management is how your fundraising team cultivates meaningful donor relationships with prospects and donors to ultimately secure more gifts. The "moves" are the actions your fundraising team takes to bring a prospect closer to conversion. Moves Management is important as it takes prospects and turns them into lifelong donors and champions for your mission. If you don't know what moves management is you can read our #WiserWithWisely Intro to Moves Management blog post. 
There are quite a few steps in the moves management cycle and there will be several donors who are at different stages of the cycle. It's a lot to keep track of and without a fundraising portfolio, your fundraisers will spend more time tracking the moves management cycle and writing out task lists than actually building relationships with donors and prospects. This means less revenue for your nonprofit's mission! 
With a fundraising portfolio management software tracking moves management, your fundraising team will have more time to actually spend with donors and work on bringing in more donations. 
How Wisely Helps Nonprofits with their Fundraising Portfolios 
Some fundraising teams store their fundraising portfolios in excel, or even on paper, this means that the documents are decentralized and the whole fundraising team isn't able to access the information when they need it. It also means that it's time-consuming to update the fundraising portfolio because it has to be done manually – making it more likely that things will be missed. 
There's a better way to manage your fundraising portfolio and that's with a fundraising portfolio management software like Wisely. Wisely uses the power of AI-driven insights to help your fundraising team raise more revenue. 
Here's how Wisely supports your fundraising team: 
AI-driven insights that identify new prospects, and flag at-risk donors before they lapse

Best practice informed moves management strategy is built right in

Ability to see prospects and donors  at each stage of the donor lifecycle

Built-in task list that helps you stay on top of moves management strategy

Centralized access for your whole team, from anywhere

Syncs with your CRM so the information in your portfolio is always up-to-date

Goal progress and reporting dashboard so your fundraising team always knows where they stand
Wisely nonprofit fundraising software makes it easy for your fundraising team to manage their fundraising portfolio by tracking goals and moves management. This gives your fundraising team more time to spend building relationships with donors that lead to bigger gifts. And with AI-driven insights, you'll always know when the next gift is coming in! 
Click on the link below to watch Wisely in Action!